Press : Sunday Box : a private "streaming" service to share photos and videos with friends and relatives
March 11, 2020
Reading time 1 minute
Life sometimes takes children and grandchildren away from their elders... A French start-up offers the Sunday Box, the first TV channel that transmits video or photo to your loved ones on their private TV screen to share photos and videos with their loved ones.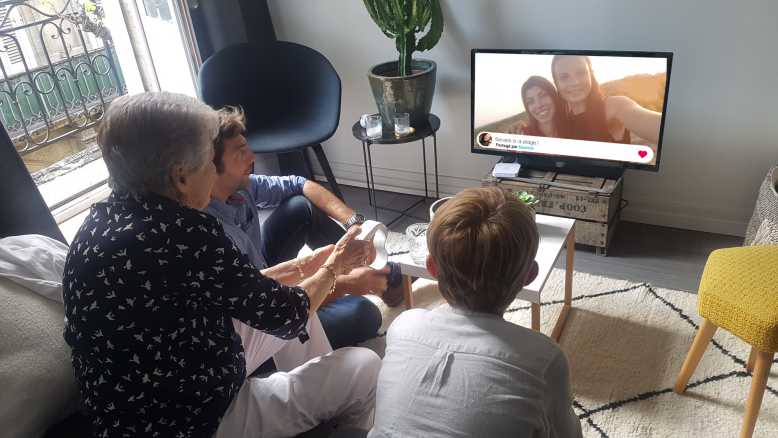 With the times and viruses that are going on now, visits to the elders are becoming rarer. And this, with the sole aim of preserving their sometimes fragile health. A French start-up Sunday offers a private channel to keep in touch with our elders.
Preserving the intergenerational link is a central concern at the moment. So investing in a Sunday Boxcould lighten the constraints a bit while keeping the link "alive". And then, when visits to EHPADs are no longer regulated, the Sunday Box will still allow people to remain close to those who are far away!
The Sunday Box presents itself as a very easy to use remote even for older people. It allows family and friends to instantly send videosor photos to the TV screen of a lonely loved one. The Sunday Box requiresonly Wifi access and is presented as a connected box. An ergonomic and colourful remote, a free application, without subscription, and that's it. A few minutes to install it and hours of talking to your loved ones.
A connection in a few minutes
Concretely, the Sunday Boxconnects in HDMIto the television and becomes the chief of the tribe. Tribe members will have to be added on the application and will be able to send the documents of their choice. When a message arrives, the light heart of the remote control flashes. Whoever receives the light heart will just have to go to the "Sunday channel" connected to the HDMI port to discover the smile of their loved ones.
Photo credit : Sunday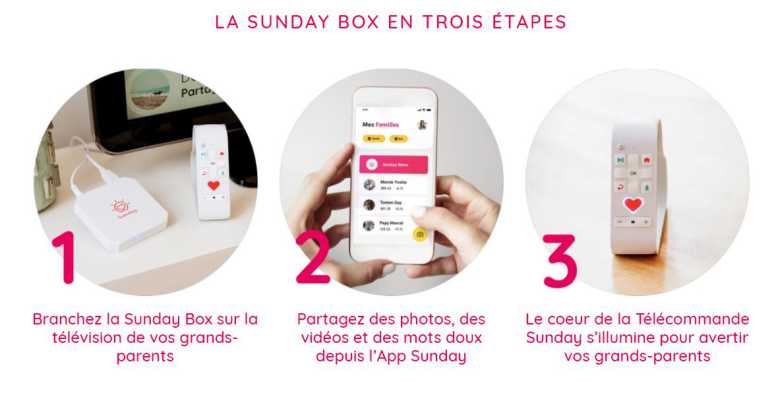 Sunday Box: a private streaming service to share photos and videos with friends and family.
For relatives who send photos or videos, they are transmitted via the dedicated applicationand arrive directly on the living room or bedroom screen. It's a nice gift for the old ones and a great way to let them know how you are doing.
Sunday Box Photos, Vidéos sur TV Grands-Parents - Nouveau Cadeau Grands-Parents , Box Famille de Partage Photo sur TV avec Tlcommande Sunday Coeur
The ideal gift: Looking for a great gift for your grandparents, we recommend our Sunday Box. It's a gift full of Love ready to use !
https://www.neozone.org/innovation/sunday-box-un-service-de-streaming-prive-pour-partager-des-photos-et-videos-avec-ses-proches/